This year, the Hannah's Bookshelf Christmas Special on North Manchester FM was on Boxing Day (Saturday 26th December). As is now tradition, I devoted this show to a little selection of festive fiction to enjoy with your Christmas pudding. And this year, I decided only to include books that were published this year. You can listen to the show again on the player below, but, as promised, here are the books that I featured on this year's festive list…
Pine is a bit of a cheeky one to start off today's list, as it's not actually set at Christmas. However, it's set in the run-up to Christmas, and it's so beautifully evocative of winter that I think it counts. A modern Gothic novel set in a remote village in the Scottish Highlands, Toon's novel begins at Halloween, when Lauren's dad Niall takes her guising around their small village. Their journey home is disturbed when a distressed woman steps out in front of their car, obviously in need of some help. Niall and Lauren take the woman home with them, but in the morning she's gone.
Pine is an evocative and atmospheric read – part thriller, part Gothic tale. Although it's not set at Christmas, it's a perfect winter story with some compelling characters and a memorable setting. It's a great book for reminding you why we have so many winter festivities – without them, it can seem awfully dark out there.
The next book on today's list is more definitively set at Christmas. The Dead of Winter is the latest instalment of Upson's 1930s-set crime series, in which real-life Golden Age mystery writer Josephine Tey is cast as the main character. The Dead of Winter sees Josephine accompanying her friend DCI Archie Penrose to St Michael's Mount in Cornwall for what is meant to be a lavish and memorable Christmas party. However, as you might guess, there's something dark on the horizon. A number of crimes (no spoilers!) put paid to the party atmosphere, and bad weather sees the island cut off from the mainland. Archie – ably assisted by Josephine and her lover Marta – must investigate without assistance. And to make matters worse, there's a rather famous film star among the party who might be in need of additional protection.
The Dead of Winter is a modern take on Golden Age cosy Christmas crime, but it's certainly a charming one. Upson weaves 'real-life' characters into her fictional plot with ease, and it's clear she's done her research here. Overall, it's a book that's affectionate towards both the people who make (perhaps surprising) appearances, but also towards the genre and the writers who defined it. And it is definitely a Christmassy read.
Something a bit different now… though this one is undeniably full of Christmas spirit! Christmas Angels isn't narrative fiction per se, though, and it's definitely not a crime story! It's a rather cute little stocking filler of a book that turns an affectionate and sometimes humorous eye on the angels/fairies that sit on top of our trees each year.
Dobson's book is a series of charming photographs of much-loved family angels of different ages, styles and materials. Each picture is accompanied by a short profile of the angel, listing its age, what its made of, who owns it, and then a short little glimpse of its biography. Some of the profiles explain how and when an angel was made, some offer a quirky little suggestion of personality, and some share details of its journey from tree to tree that are suggestive of an intriguing (and much bigger) story. It's a beautifully put-together book, and one that is bound to make you smile. It may also make you think a little more about the figure adorning the top of your own tree.
Back to crime fiction now, but something a little more contemporary than The Dead of Winter. The Christmas Killer is a police thriller, rather than a cosy mystery (though it does have a bit of a whodunnit element as well). It's also set in the present – however, like all the contemporary books on this year's list, it's not set in the actual present day!
The main character is D.I. James Walker, who has moved from London to a small village in Cumbria with his wife Annie, after being threatened by a nasty piece of work. James and Annie hope that village life will be quieter, but the peace doesn't last very long. A horrible message, written on a Christmas card, is deposited on their doorstep. Someone is planning to carry out a series of murders during the festive period. Pine's novel has plenty of snow, a remote village cut off, and the finger of suspicion pointing at formerly friendly neighbours. It's certainly a contemporary crime novel, but it's got a good bit of Christmas factor about it as well.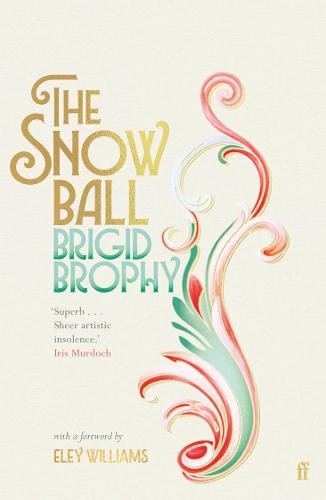 This one's a little bit of a cheat (but only a little bit). Brophy's novel was originally published in 1964, but it's been republished in a new edition (with a foreword by Eley Williams) this year, so I think I can still include it on my list. This is also the first of the two New Year-themed books on the list, so we're moving a little past Christmas now.
The Snow Ball is set at a New Year's Eve costume ball in London. It's a luscious and seductive tale of sexual politics, operatic grandeur, and the ever-present sense of mortality – or, as the protagonist Anna puts it, 'sex, death and Mozart'. Brophy's work is overdue a revival, and The Snow Ball is a great place to start. As the blurb will tell you, it was considered a 'scandalous' book in the 1960s. It's still an unusual and thought-provoking read today. And it will make you feel like throwing an extravagant costume party… before making you wonder whether that's really such a sensible idea!
It wouldn't be a festive reading list without a bit of romance! The final book on my list is unashamedly romantic. It's also set at New Year's Eve. Well, to be more accurate, it's set on multiple New Year's Eves (and other times as well).
Minnie and Quinn were born a minute apart on New Year's Eve in 1989/1990. After that moment, their lives went off in quite different directions (or did they?). When the two are reunited on their thirtieth birthday, they discover that fate has been keeping them closer than you might have thought. Although this isn't my usual genre of choice, I found This Time Next Year a charming and enjoyable read, full of the magical promise of New Year's Eve. I put a lot of my enjoyment down to the characterization. Yes – Minnie and Quinn are the leads in a literary rom-com, but they're also three-dimensional and really rather likable.
This was an odd book to end on, as it's the only book on my list that is explicitly set in the year 2020. Except, it's not set in the 2020 we've just experienced (as an author's note at the end explains, the book was written pre-COVID). And so, not only do we get the romance of Minnie and Quinn's ever-entwined lives, but also the poignant romance of a year that never was. Still… this time next year, eh?
To find out more about these books, and my reasons for choosing them, you can listen to the Hannah's Bookshelf Christmas Special here: