For last week's Hannah's Bookshelf, I decided to go with a topical theme. As we were right in the middle of the group stages of the Euros, I thought football could be a pretty cool topic – until I realized that I don't actually know that many novels about football! (Maybe I should do a bit of reading so I have a list ready in time for the World Cup.) But then I thought… why not do one of my timewarp shows, and take a look at some of the best books of THE year for English football? I mean, of course, 1966 (which it turns out was a pretty good year for literature too).
You can listen to the show on the player below, but here's a rundown of some of the literary highlights of 1966. Let me know if you think I missed anything out!
It shouldn't come as too much of a surprise that I started off with an Agatha Christie novel – and a Poirot one at that! 1966 saw the publication of Third Girl, a novel that pairs Poirot with Ariadne Oliver again (and also sees the return of Dr Stillingfleet, a character who had previously appeared in a short story entitled 'The Dream'). Poirot is consulted by Norma Restarick, a young woman who believes she has committed a murder. It's up to the great Belgian detective (with the help of his novelist friend, of course) to piece together the tale told by the troubled girl. Of all the Poirot novels, this one feels most closely tied to the time of its publication – it's definitely set in the 1960s. So much so that Maurice Richardson, reviewing the book for the Observer, said: 'After this, I shan't be a bit surprised to see A.C. wearing a miniskirt.'
Flowers for Algernon by Daniel Keyes
Originally an award-winning short story published in 1959, Keyes's Nebula-winning novel tells the story of Charlie Gordon, a man with an IQ of 68 who works in a menial job. Charlie is attending literacy classes (taught by Alice Kinnian), and comes into contact with Dr Nemur and Dr Strauss, scientists who are pioneering a surgical procedure to increase intelligence. Charlie decides to have the surgery, and his life radically changes. Told through Charlie's 'progress reports' (which begin shortly before he has the operation), Flowers for Algernon is a thought-provoking and moving book with a real kicker of an ending.
Rosencrantz and Guildenstern are Dead by Tom Stoppard
Tom Stoppard's absurdist tragi-comedy was first performed at the Edinburgh Fringe in 1966. It – loosely – reimagines the events (or, perhaps more accurately, some of the themes) of Shakepeare's Hamlet through the eyes of minor characters Rosencrantz and Guildenstern. The play opens with the eponymous (but almost interchangable) characters betting on coin tosses, though they have already tossed 92 heads in a row. This leads to a meditation on the nature of chance, existence and reality that permeates the entire play. The first version of the play I ever saw was actually the brilliant 1990 film adaptation, which stars Gary Oldman (as Rosencrantz), Tim Roth (as Guildenstern) and Richard Dreyfuss (as the player).
Black Sheep by Georgette Heyer
Georgette Heyer is the undisputable queen of the Regency romance. Black Sheep is, in some ways, very much in the mould she created with Regency Buck in 1935 – a delicious promenade through the fashions and foibles of early nineteenth-century society, surrounded by characters inspired by the novels of Jane Austen. However, there's a bit of a cynical edge to Black Sheep, and it offers an interesting contrast to many of Heyer's other Regency romances. The story follows Abigail Wendover (aged 28 – ever so slightly older than the usual heroine) and her older sister Selina, as they take in the entertainments on offer at Bath. Step forward Miles Calverleigh, the 'black sheep' of the title – a man who doesn't possess a title (shock!), doesn't employ a valet (horror!) and works for a living (I need my sal volatile!). Miles and Abby make a refreshing pair – with a layer of maturity that's sometimes lacking in Regency romances – and the dialogue, humour and chemistry between them is classic Georgette Heyer.
In Cold Blood by Truman Capote
Capote's account of the murder of Herb Clutter and his family – and of the subsequent capture and conviction of Richard Hickock and Perry Smith – is the second bestselling true crime book of all time. It was co-researched (if not cowritten) with Capote's childhood friend, Harper Lee, and remains a highly influential and popular 'non-fiction novel'. Capote (and Lee) travelled to Holcomb, Kansas almost immediately after the murders in November 1959, and attempted to create an account of a devastating crime that rocked the small town community to its core.
And so to my final book… and the best-selling book of 1966 (in fact, one of the best-selling books of all time)…
Valley of the Dolls by Jacqueline Susann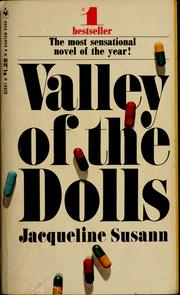 Susann's debut novel tells the story of three women (Anne Welles, Neely O'Hara and Jennifer North), following their lives, loves, triumphs and (most importantly) crises over twenty years. The 'dolls' of the title refers to barbiturates, the sleeping pills that all three of the women eventually come to rely on (for different reasons). Loosely based on the lives of various real life players on the Hollywood/Broadway scene (including, perhaps, Marilyn Monroe, Carole Landis, Judy Garland, Betty Hutton and Frances Farmer), this epic novel exploded onto the literary scene in 1966 (in part due to a canny marketing strategy by Susann and her husband), and has since sold over 30 million copies. Adapted into a film in 1967 (starring Susan Hayward, Barbara Perkins and Sharon Tate) and a miniseries in 1981 (starring Catherine Hicks, Lisa Hartman and Veronica Hamel), Susann's book is the classic of its genre, and it paved the way for writers like Jackie Collins (who was included in my list of the top books of 1983), who would continue to fascinate readers with tales of the lives, loves and self-destruction of the rich and famous.
Susann's next two books – The Love Machine and Once is Not Enough – were also big hits, making her the first author to have three consecutive titles on the New York Times bestsellers list.
To hear more about all of these books – and about my reasons for choosing them – catch up with Hannah's Bookshelf here: