On this week's Hannah's Bookshelf on North Manchester FM, I was talking about all things green in the fourth of my semi-regular series of colour-themed shows. I'm continuing to follow the colours of the rainbow with this series, so it'll be blue next time!
In case you're interested, here are the links to my previous Read a Rainbow book lists: Red, Orange, Yellow.
You can listen to the show on the player below, but as promised, here's a list of the books I talked about on the show…
The first book on today's list was one I'm very fond of. Flagg's 1987 novel offers a story-within-a-story format that presents a tale (or, rather, tales) that explore themes of family, ageing, love, violence, abuse and racism. In the present day, middle-aged Evelyn meets an older woman named Ninny Threadgoode while visit her mother-in-law at a nursing home. The two women strike up a friendship, and Ninny tells Evelyn stories about her youth in Whistle Stop, Alabama in the 1930s. In particular, she tells her the story of Idgie Threadgoode and Ruth Jamison, a couple (whose relationship is a secret, but an open and accepted one) who open the eponymous cafe. There's plenty of tragedy along the way, but also a lot of warmth and a lovely portrayal of inter-generational female friendship with Evelyn and Ninny. And, of course, the book includes the recipe for some of the food served in the cafe, including the famous fried green tomatoes (but not the barbecue, you might be glad to hear if you know the story!).
Girl with Green Eyes is the second in Edna O'Brien's The Country Girls trilogy. It picks up after the events of the first novel, with Caithleen (known as Cait or Kate) and Baba, the 'country girls' of the first novel, now free of their repressive convent school education and living in Dublin. Kate is looking for love, and Baba is looking to enjoy the life of an urban single woman. The book focuses on Kate's relationship with an older, married man, at least in the second half, but the commentary on the oppressive nature of the religious and societal mores of 1950s Ireland that formed a key theme of the trilogy's first instalment is still there. O'Brien's trilogy fell foul of the Irish Censorship Board when it was first published, but it's stood the test of time as a charmingly honest take on female sexuality, desire and friendship in the 1950s.
I know the apples in the illustrations are red, but I couldn't resist including this one on my list (on the basis that 'apple' is a shade of green). This is another book that I'm very fond of, as I adored it when I was a child. It's a great kids book, told in rhyme, about a girl who finds a withered apple tree under some rubbish in the back garden. She nurses the tree, which eventually bears fruit. And then more fruit. And then more fruit. The family has to find creative ways to store and eat the bumper crop of apples, including the 'apple pigs' of the title. And this is another book that includes a recipe too, as there are instructions for making your own apple pig at the end of the book.
Okay, I know I'm cheating a bit with this one, but a friend of mine was insistent that I include Soylent Green on today's list. The problem is that, while the film adaptation had 'green' in the title, the original novel didn't – and that's far from the only difference between the two either. But, and maybe this says a lot about me, when I think 'green', I think 'soylent', so I decided to bend the rules a little bit with this one. Harrison's 1966 novel is set in a dystopian vision of 1999. The earth's population has topped 7 billion (imagine!), resulting in unbearable overcrowding, resource scarcity and strain on infrastructure. Harrison's protagonist is Andy Rusch, a detective who lives in half a room in New York City. The novel combines a detective story about organized crime and the theft of some 'soylent' (soy-lentil meat substitute) steaks with various perspectives on life in this grim version of NYC's future. The 1973 film adaptation, Soylent Green, kept the police procedural element, along with the dystopian vision of the future (which was moved to 2021), but it added… something else, for which it is most well-known.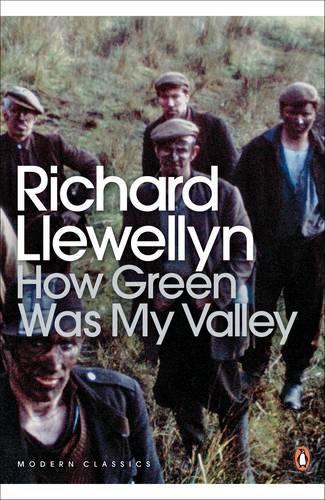 This one is a bit more of a straightforward choice. Llewellyn's 1939 novel features Huw Morgan, an older man looking back at his life and upbringing in a mining community in the Welsh valleys. Morgan's story takes in both the good and the bad, depicting both the hardship and danger of living and working in a mining community, but also the camaraderie and sense of neighbourliness that such a close-knit community fosters. Morgan himself is spared the mine as a young man due to his academic abilities; however, he is not spared the grief of losing loved ones to accidents and disasters. Despite this, there's a good touch of nostalgia to the book – as you can tell from the title – as Morgan looks back on a lifestyle and a community that is now almost gone for good. Nostalgia was something of an accidental theme on today's show, and it's something that creates a subtle connection between this book and the one before (and the one after as well).
I chose this last books for the form, as much as the content. I do enjoy the novel-in-short-stories form, though it's a tricky one to pull off. Strout's novel is a great example of how to do it well. Told through thirteen standalone, but interrelated, short stories, this is a novel about a woman called Olive, but it's also the story of a smalltown (Crosby, Maine) and the lives of the people who live there. Olive herself is a pretty memorable character – by turns grumpy, bossy, petty, kind and pensive, she's a flawed interpreter of the changes that take place in Crosby over time. Her marriage to the town's pharmacist, Henry, and her relationship with her somewhat troubled son Christopher are explored, and the narrative's slow-burn pace and lack of heavy-handed moralizing make for a really human story about a woman and a town. Interestingly, although 'green' can be a euphemism for young and naive, this is the third book on today's list in which an older character takes centre-stage (fourth, if you count the speech by the 'Eldsters' in Make Room! Make Room!). I guess that turned out to be another of my accidental themes!
To hear more about all of these books, and my reasons for choosing them, you can catch the show again here: